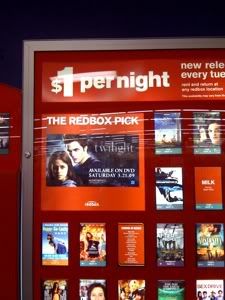 The Twilight DVD will be available to rent from RedBox on March 21st!
For those of you unfarmiliar with RedBox, it's a movie vending machine that is found in supermarkets, fast food restaurants and other places. You can select movies from a computer touch screen and rent them for one night for $1. It accepts credit/ATM cards and is really easy to use.
Just visit redbox.com and you can find locations near you, search to find what Redboxes have what movies available, and even reserve the movies at a particular machine in advance.
To see more pics click read more.

Continue reading →